Today we introduce Flex for Apache Flink and announce Flow, the future of distributed systems engineering.
Starting now, individuals can use Flex CE for free, even at work. Organisations can install Flex CE in up to three non-production environments.
Each installation of Flex CE can manage one Flink Cluster. See our feature matrix for more information.
Visiting Current '23? Stop past the Factor House booth for a full demo and a chat through our product roadmap!
---
Flex for Apache Flink is now GA 🚀
With the release of 92.1, we are excited to introduce the general availability of Flex for Apache Flink. Commercial and community editions available today for developers to enjoy.
Flex brings the power of Factor House's core technology to the Flink tooling space, with the web application sharing Kpow's sophisticated, intuitive UX, considered data management features, and advanced security capabilities including User Authentication, RBAC, Multi-Tenancy, Enterprise Integrations, and Audit Log alongside all the Flink job and task management and tracking capabilities you'd expect.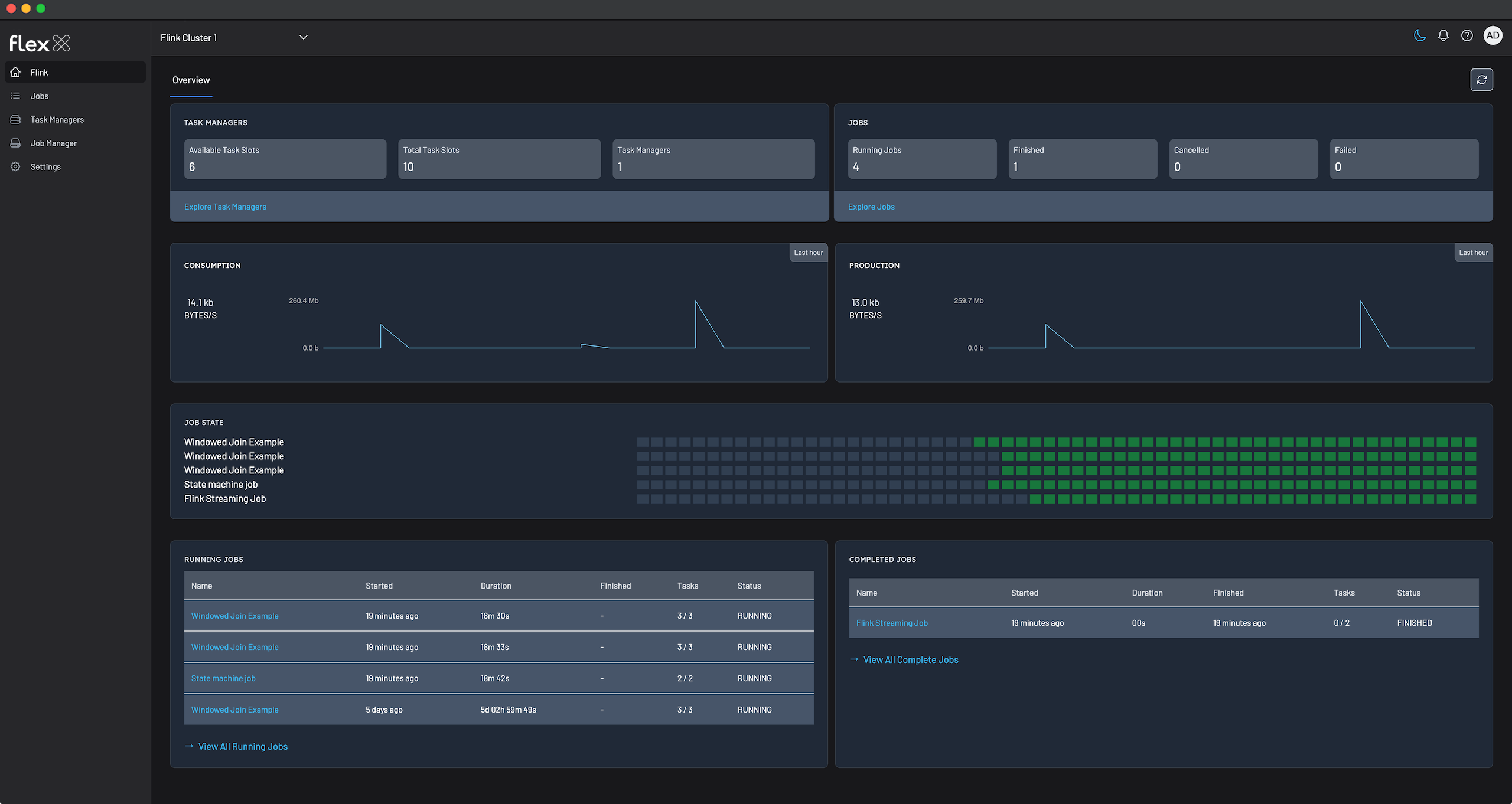 This enterprise-grade solution unlocks deep insights and provides unparalleled management capabilities across all environments, from local development to production, with users benefiting from cluster-level insights and individual job details, including comprehensive metrics, aggregated consumption, and production data.
A single Flex Standard or Enterprise Edition instance can manage up to 12 Flink clusters, with organizations able to configure Flex with RBAC and multi-tenancy to provide fine-grained control and access for their users.
The free community edition of Flex offers a suite of engineer-focused features designed to accelerate the Flink development process. Individual developers can use Flex to manage one Flink cluster, and Organizations can use Flex Community in up to three non-production environments.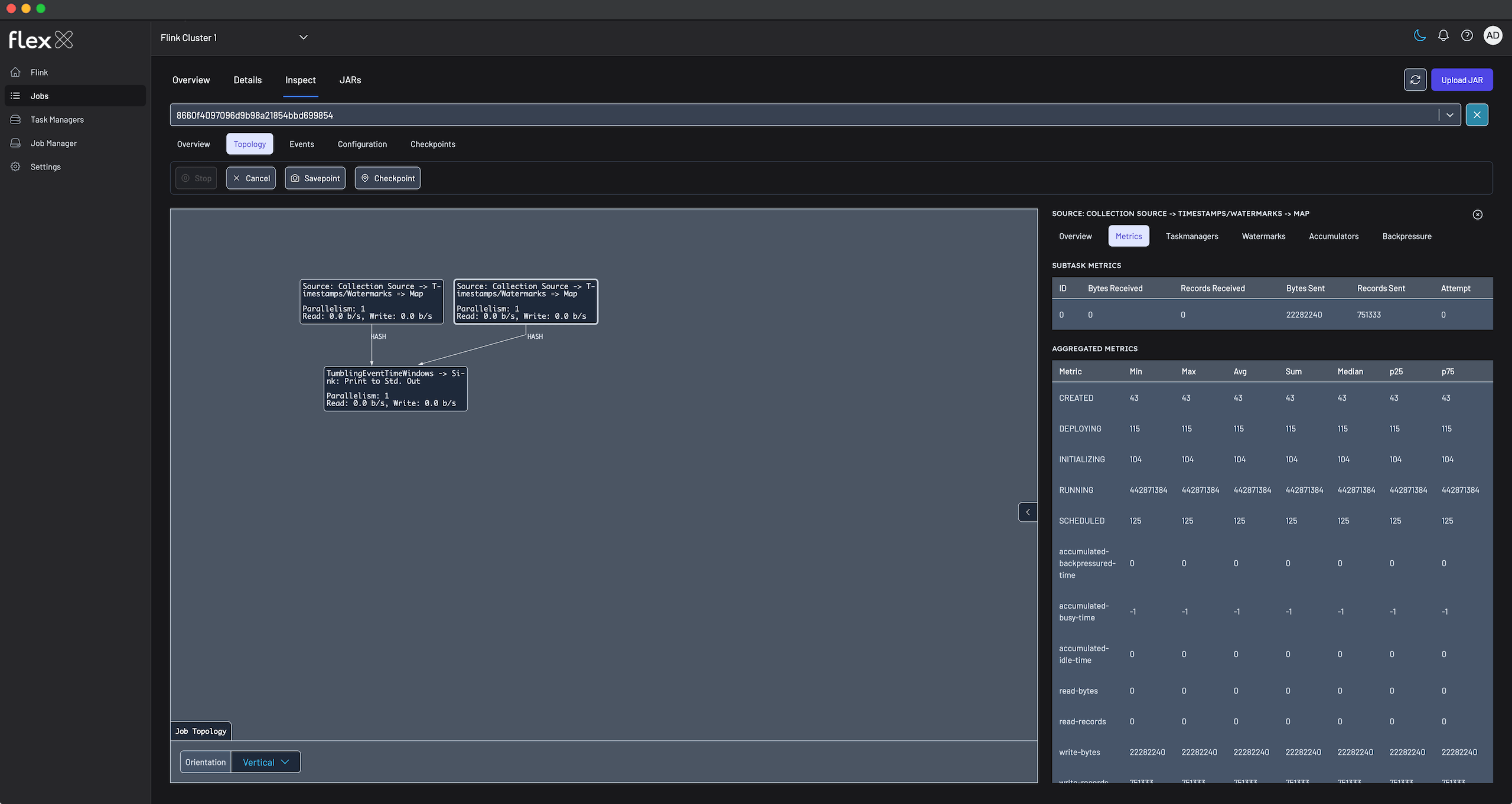 Our mission is to delight and empower distributed systems engineers, and in talking with our community of expert users, it became apparent that the need for enterprise-grade Flink tooling was the next step.
Flex Community Edition only takes 5 minutes to sign up for, download, and install, so get on board and tell us what you think! Toot toot! 🚂
---
Flow by Factor House: the Future of Distributed Systems Engineering
We are excited to announce the development of Flow.
Flow is the integrated, multi-tech platform combining Kpow and Flex with full, secure API access providing complete control of distributed data systems. With Flow organizations can manage, monitor, secure, and explore Apache Kafka and Apache Flink from a single Web-UI.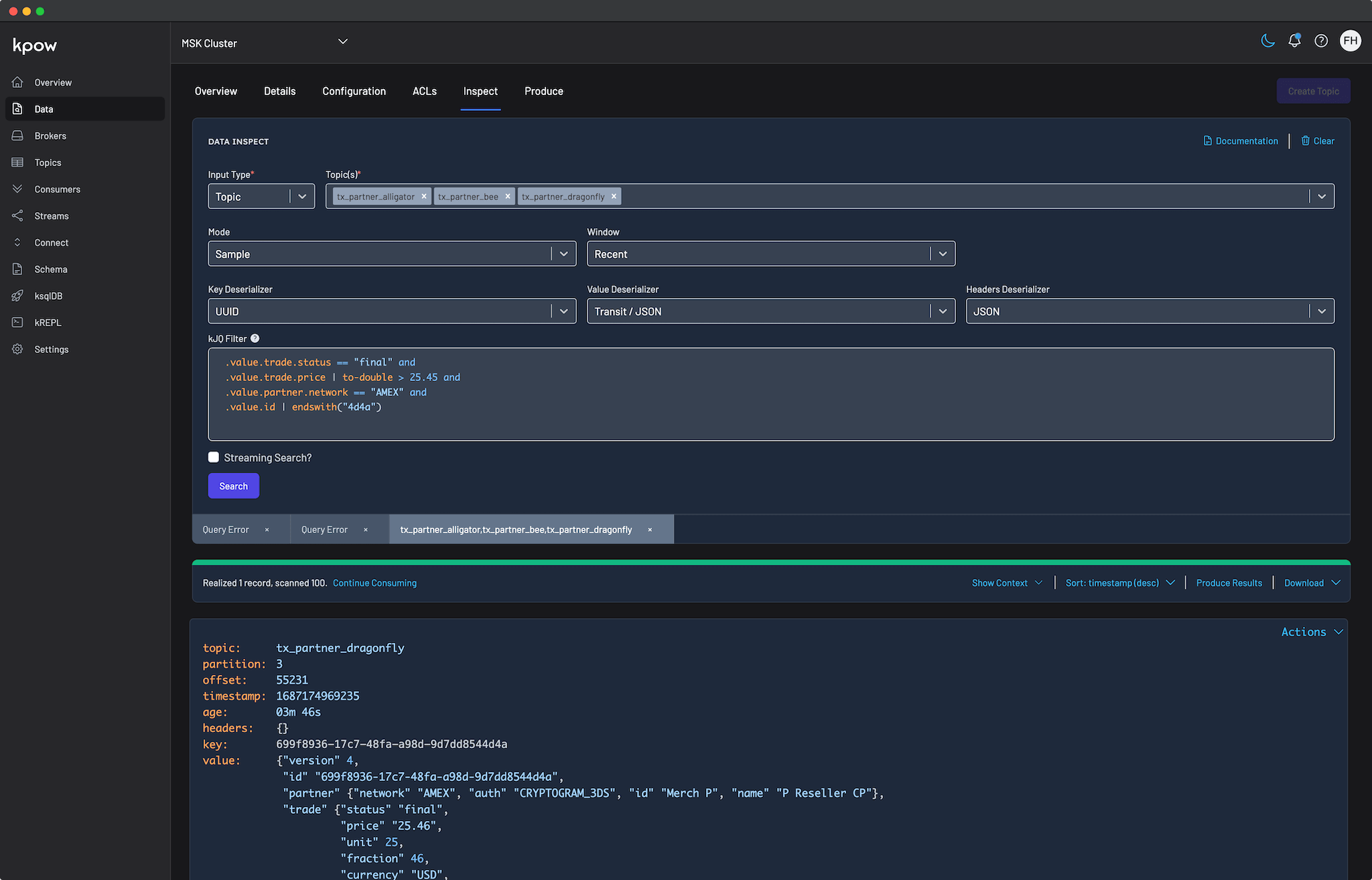 Unlock automation with a secure REST API for GitOPS control of the Flow Platform and connected Kafka and Flink resources - driving efficiency gains in enterprise engineering by providing unrivaled integration with distributed systems.
Flow combines the market-leading features of Kpow and Flex, including the ability to deploy air-gapped and secure with production-tested integrations for Okta, OAuth, LDAP, SAML, RBAC, Multi-Tenancy, and audit capabilities for data governance.
Flow has a unique composable architecture. Our ultimate goal for the platform is to cover the entire surface area of distributed systems at both a UI and API level in a single consolidated UI for organisations who have several hundred instances of each resource to manage.
Flow will be coming to market in 2024 To follow the development journey of Flow, head to factorhouse.io/flow and sign up for product news and updates.
---
Factor House 2.0
Now that we're a three-trick pony, a few things are changing, and a few aren't.
Kpow for Apache Kafka is still our flagship solution - and we'll ensure it remains the market-leading Kafka UI (and soon-to-be API) available.
We'll also approach the ongoing improvement and development of Flex and Flow with the same speed and zest as we have with Kpow. We've already started on our SQL gateway integration for Flex and can't wait for the user feedback and feature requests to begin flowing in.
Kpow.io is being brought into the mothership and will live at factorhouse.io/kpow alongside Flex and Flow, with the Factor House website getting a well-deserved makeover!
Automation Automation Automation
Factor House products share a mature, production-tested core IP and as such some features of the Flow platform will naturally 'flow' (excuse the pun) into our tooling products.
Building The Flow platform allows us to venture into the exciting space between distributed systems, adding value where the engineer lives. The secure API provided by Flow is an important progression product capability, allowing engineers to automate not only the control of Apache Flink and Apache Kafka resources but also to control Flow itself, modifing RBAC rules, adding and removing resources, and more.
We are pleased to confirm that Kpow and Flex will receive a capability boost in Quarter 1 / 2024 when the resource management API is integrated in those products respectively.
Factor House Product Roadmap and Changelogs
As part of the evolution and expansion of the Factor House toolset, we've published a complete product roadmap outlining the path ahead.
Similarly each product now has a details changelog, so you can reference previous iterations at a glance and measure our cadence:
---
About Factor House
Factor House specializes in developing market-leading tools for distributed systems. We believe that Kafka and Flink are transformative technologies, and every engineer should have access to tooling that makes working with distributed systems a joy.
Our solutions are built on the foundation of our extensive experience delivering data platforms and leverage our learnings from a decade of building systems with Apache Kafka, Apache Flink, Apache Cassandra, and Apache Storm.
As distributed systems engineers, we developed the tools we needed, which we consider the most powerful and user-friendly solutions in the market.
Read more about our team and experience.
---
We hope you find Flex Community Edition useful. If you encounter any problems or techincal questions just raise an issue on the Flex Github repository.
Interested in a commercial license? Reach out to [email protected] any time to discuss requirements and start a POC.
Kylie Troy-West is a Co-Founder and COO of Factor House.
Factor House build essential tools for modern engineers.